On the third Sunday in Advent – exceptions confirm the rule as far as the date is concerned – our third and thus last concert of a year takes place. We start rehearsaling the works at the beginning of September, but at the beginning of the school year at the latest.
2019: Giacomo Puccini – Messa di Gloria and Anton Bruckner – Te deum (WAB 45)
Photos: Oliver Loibl, Maria Zinke
Dr. Stefan Kaufmann (President of the Förderverein)…

…speaks about the twinning anniversary.

Reverend Michael Heil…

…is looking forward to the concert

Enrico Trummer welcomes the concert master.

From now on, the music speaks…

Concert recording for own purposes

In the fall of 2020…

… Choir and orchestra meet again 🙂
2018: G.F. Handel – Four Coronation Anthems HWV 258 – 261 and W. A. Mozart – Missa in C Coronation Mass KV 317
Pictures of the main rehearsal and first four pictures (bright): Dr. Hans-Dieter Fritz; other pictures: Christian Konnerth; poster and flyer: Martina Irion
Here you can listen to audio samples 🙂

2017: Wolfgang Amadeus Mozart: Te Deum (KV 141) and Exultate, jubilate (KV 165); Karl Jenkins: Stella Natalis (2009)
Photos: Wieland Konnerth
2016: Antonio Vivaldi – Gloria; Martin Palmeri – Oratorio de Navidad
Photos: Wieland Konnerth
Already during the final rehearsal both works were an incredibly intense sound experience! In the evening, the festive lighting in the church interior emphasized the solemn, Christmassy atmosphere.
2015: 60 years of town twinning between Stuttgart and Cardiff
In 2015 we received a visit from the Cardiff Bach Choir. In the course of only two rehearsals, our conductor Enrico Trummer succeeded in selecting from two musically completely different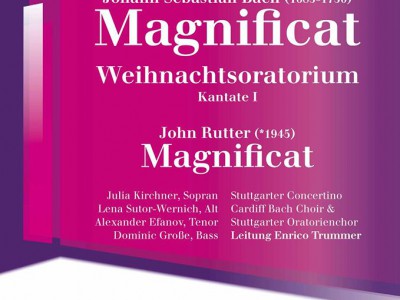 singing groups to form a homogenous sounding choir. Together with the musicians of a large orchestra up to 130 people played on stage. There is an informative film about this memorable event in our media library or on youTube! Our second joint concert took place a few months later in May 2016 in Cardiff and was dedicated to Welsh composers.
2014: First-class representation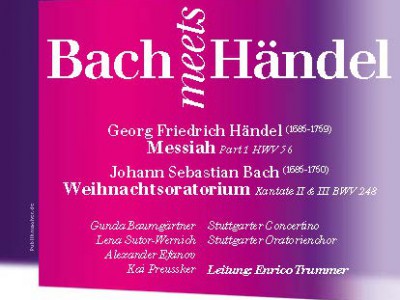 Fortunately, Michael Alber, who is very renowned in the choral and musical world, could be won over for the musical direction of the Christmas Concert 2014. He stood in for our suddenly seriously ill conductor at extremely short notice – only two weeks before our concert date – and thus saved our concert. Such a helpfulness is not a matter of course and we will keep him and his work with us in grateful memory.
Previous pre-Christmas concerts
2011:  
Due to the chosen concert program there was no Christmas concert this year! However, our audience got "more than indemnified".
2010: The Creation – Joseph Haydn
Petra Labitzke (S) , Daniel Kluge (T) and Wolfgang Schöne (B)
The extraordinarily professional accompaniment once again came from some members of the Stuttgart State Theatre Orchestra.
2009: Elijah op. 70 – Felix Mendelssohn – Bartholdy
Petra Labitzke, soprano + Susanne Schäffer, alto + Daniel Kluge, tenor + chamber singer Wolfgang Schöne, bass
Members of the Stuttgart State Theatre Orchestra
2008: The Messiah – George Frederick Handel
Petra Labitzke, soprano + Anne Greiling, alto + Tobias Wall, tenor + Teru Yoshihara, bass
Members of the Stuttgart State Theatre
With this work the first video of the Stuttgarter Oratorienchor was created, which you can of course find in our media library or on youTube.
Further concerts in November or December:
2007: Johann Sebastian Bach – Christmas Oratorio Parts I – IV
2006: Wolfgang Amadeus Mozart – Three Sacred Hymns after the Thamos Choirs KV 345; Piano Concerto C Major; Davide penitente KV 469
2005: Arthur Honegger – King David
2004: Felix Mendelssohn-Bartholdy – Paul op. 36
2003: Georges Bizet – Te Deum; Antonín Dvořák – Te Deum; Anton Bruckner – Te Deum
2002: Felix Mendelssohn-Bartholdy – Symphony No. 2 (hymn of praise); Joseph Haydn – Te Deum
2001: Antonio Vivaldi – Gloria; Francis Poulenc – Gloria; John Rutter – Gloria
2000: Camille Saint-Saëns – Oratorio de Noël; Ottorino Respighi – Lauda per la Natività del Signore; John Rutter – Magnificat
1999: Johann Sebastian Bach – Magnificat; Christmas Oratorio I – III
1998: Johannes Brahms: A German Requiem
1997: Felix Mendelssohn-Bartholdy – Elijah op. 70
1996: Carl Philipp Emanuel Bach: Magnificat; Josef Gabriel Rheinberger – The Star of Bethlehem
1995: George Frederick Handel, arr. Wolfgang Amadeus Mozart – The Messiah KV 572