175 … 60 … 25 years!
With 175 years, the traditional ensemble of the state capital of Baden-Württemberg is actually the longest-serving concert choir, which since its founding in 1847 has devoted itself essentially to oratorical literature and still very vital. For its big anniversary concert in the Beethoven Hall of the Liederhalle, Haydn's classic "The Creation" was once again on the program.
Enrico Trummer, musical director of the choir for more than 25 years, had invited two partner choirs from Stuttgart's twin cities Brno and Strasbourg for this special occasion: With the "Brno Philharmonic Choir" and the "Choeur de St. Guillaume – Strasbourg", two equally powerful choir delegations were on board, forming the good 100-strong choir of the evening.
Awarded with the Zelter Plaque
Another highlight of the evening was the ceremonial awarding of the Zelter Plaque by Stuttgart's mayor of culture, Dr. Fabian Mayer. He emphasized that the concert activities of the Stuttgarter Oratorienchor have enriched Stuttgart's cultural offerings for many years and are highly appreciated. Abundant applause accompanied the presentation of the municipal certificate of recognition: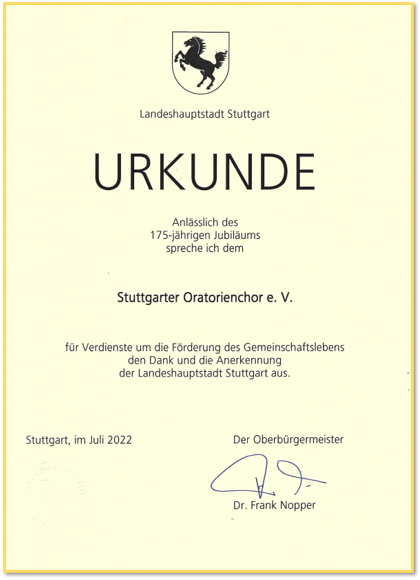 Afterwards, Deputy Mayor of Strasbourg Veronique Bertholle spoke on the occasion of the 60th anniversary of the twinning of the two cities and thanked them for the idea of this community concert:
…Regardless of the institutional dimension of a twinning, the autonomous adoption by associations and civil society is the real reason for it. I am therefore particularly pleased to see the participation of the Choeur de Saint-Guillaume from Strasbourg in this exceptional concert.

Although cities sign twinning agreements, it is schools, associations, cultural, sports, economic partners, etc. that give twinning its full meaning and content.

The value of this friendship and solidarity between cities is priceless. If this is valuable and must be preserved in peacetime, it becomes even more so in a major crisis like the one we are currently experiencing. …
Part 2 to follow soon.
How to proceed after the summer break:
From September 16, 2022 we will start again with our weekly rehearsals from 6:45 pm to 9:15 pm at the Queen Olga Stift.
Our program includes two works that will be performed at the Leonhardskirche in Stuttgart on December 11, 2022: G.A. Homilius: The shepherds' joy at the birth of Jesus and C. Saint-Saens: Oratorio de Noel. 
Would you like to sing along with us? We'd love to! We invite you to get to know us and our way of musical work. Take heart and contact the musical director by phone or use our contact form for more information. We look forward to meeting you!
Are you a tenor? Then we expect you with special pleasure…